Certifications and Partnership
I migliori Partner tech e tutte le competenze di cui hai bisogno.
Security Architect Partner Network
Consentiamo ai nostri clienti di sfruttare la potenza di una rete di Partner tecnici e trasformare le loro attività attraverso obiettivi aziendali comuni, investimenti, innovazione e co-sviluppo con i nostri partner.
Perché fare rete è importante.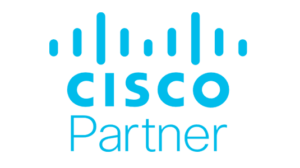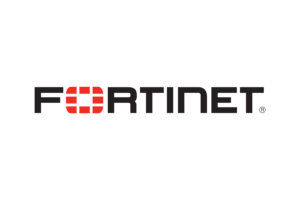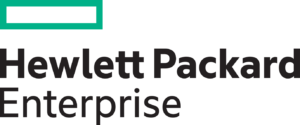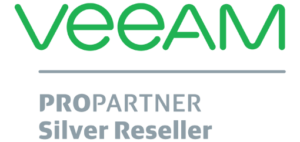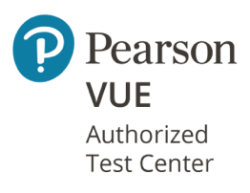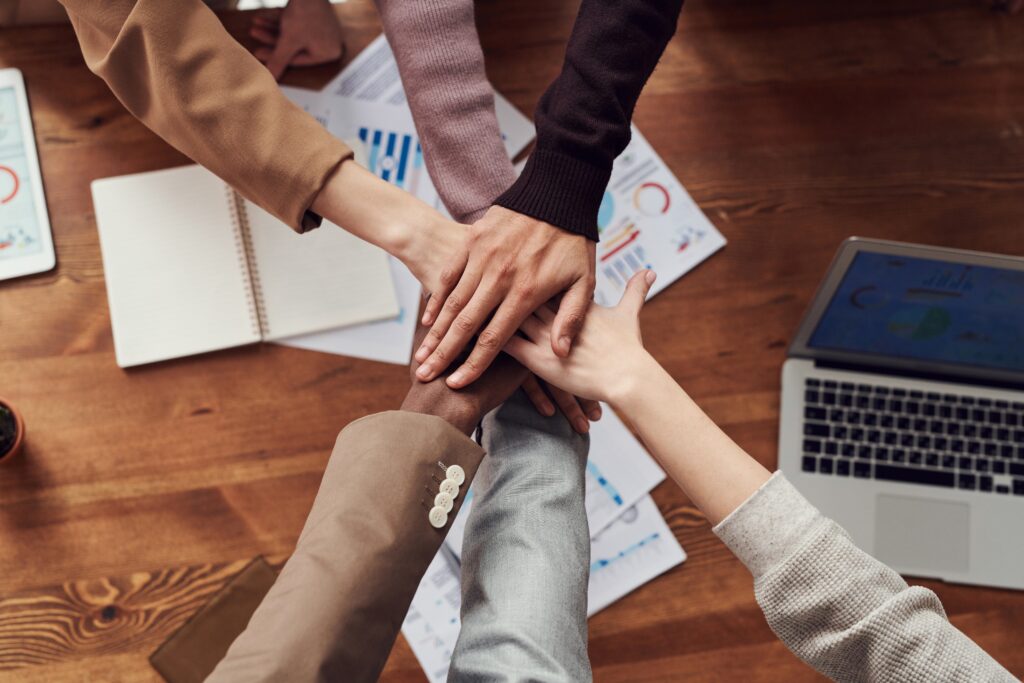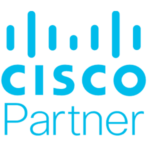 Cisco, è un'Enterprise specializzata nella fornitura di apparati di networking. Cisco produce apparati per il funzionamento delle reti LAN, MAN, WAN, VLAN e WLAN e il sistema operativo IOS che le pilota. Nell'ottica della fornitura di soluzioni complete, Cisco è entrata anche nel mercato della sicurezza, con Firewall e VPN e anche in quello della telefonia con IP Telephony, dell'archiviazione con Storage Area Network (SAN), e del computing su piattaforma x86 (UCS). Security Architect è Cisco Premiere Partner.
Specializzazioni:
-Advanced Unified Computing Technology Specialization
-Express Collaboration Specialization
-Express Foundation
Awards:
-WebEx Commission Pilot Program
-ATP - Cisco TelePresence Video Express

Microsoft Corporation una delle più importanti al mondo nel settore, nonché una delle più grandi produttrici di software al mondo.

Sviluppa, produce, supporta e vende, o concede in licenza, computer software, elettronica di consumo, personal computer e servizi. E ancora suoi prodotti software più noti sono la linea di sistemi operativi Microsoft Windows, la suite di produttività personale Microsoft Office e i browser Internet Explorer e Edge.

Che si desideri apprendere una nuova tecnologia Microsoft, prepararsi a una certificazione Microsoft, iniziare una nuova carriera nell'IT o migliorare le proprie prospettive sul mercato, i Microsoft Learning Partner offrono tutto l'aiuto necessario per il raggiungimento degli obiettivi di formazione. I Microsoft Learning Partner sono gli unici sul mercato in possesso dei Microsoft Official Courses più recenti. Offrono una varietà di soluzioni per ogni esigenza di formazione, dai corsi con istruttore alla formazione a distanza.
Certificazioni:
-Microsoft Silver Server Platform
-Learning Solutions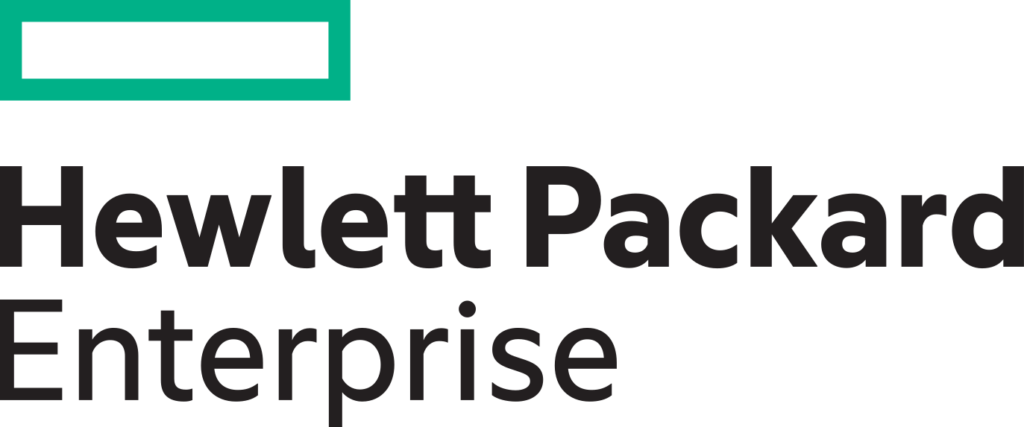 Hewlett Packard Enterprise Company (HPE) è un'azienda multinazionale che fornisce servizi per data center alle grandi imprese, è impegnata nella realizzazione di tecnologie innovative e semplici da utilizzare per tutti i suoi clienti. Grazie ad un'ampia offerta che comprende infrastrutture IT, software, prodotti e soluzioni per virtulizzazione, HPE è fra le principali società di Information Technology.
Certificazioni:
-HPE Solution provider
-HPE business Partner

Dell EMC vende prodotti e servizi, inclusi prodotti di altre società Dell Technologies, progettati per consentire ai reparti IT di passare a un modello di cloud computing e di analizzare i big data.

EMC è leader mondiale nelle tecnologie al servizio dell'innovazione e nella gestione dell'informazione, una risorsa importante per le aziende. In particolare EMC supporta i clienti nella gestione, archiviazione, protezione e analisi dei dati in maniera flessibile, affidabile e in totale sicurezza.
certificazioni:
-EMC² Authorized Reseller

VMware, azienda leader del settore del software di virtualizzazione, promuove l'innovazione nelle aziende semplificando le attività operative dell'IT e rendendole più competitive. Virtualizzando l'infrastruttura, dal data center al cloud ai dispositivi mobili, VMware consente al reparto IT di fornire servizi a qualsiasi dispositivo, sempre e ovunque.

In particolare si occupa di sviluppare software per la realizzazione di macchine virtuali per sistemi X86. I prodotti di fascia consumer come VMware Workstation e VMware Fusion, vengono principalmente utilizzati per implementare piccoli ambienti virtuali al fine di utilizzare e/o provare diversi ambienti operativi pur mantenendo inalterato il sistema operativo host che ospita gli ambienti.

I prodotti di fascia enterprise come VMware vSphere e VMware vCloud Director sono stati ingegnerizzati per creare vere e proprie server farm composte da diversi host VMware ESXi, il sistema operativo di VMware Inc che funge da hypervisor installabile Bare Metal sui server fisici. In particolare la suite WMware vCloud Director estende le funzionalità di VMware vSphere rendendo quest'ultimo una soluzione per la gestione di Virtual Datacenter con logiche Multi Tenant. Questa fascia di prodotti ha di fatto gettato le fondamenta per la creazione di Virtual Datacenter nati per l'erogazione di servizio Public Cloud con particolare riferimento alle offerte IaaS.
certificazioni:
-VMware Professional Solution Provider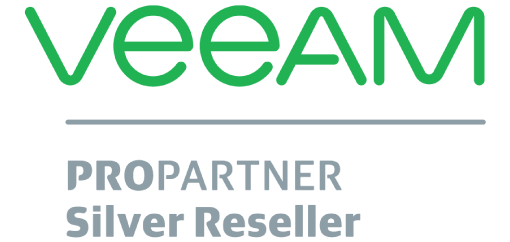 Veeam Software è una società informatica che sviluppa software per la gestione di backup, disaster recovery e virtualizzazione negli ambienti VMware e Hyper-V. Le soluzioni Veeam offrono Cloud Data Management™, backup, cloud ibrido e protezioni dati.
certificazioni:
-Veeam propartner 
-Veeam Silver Reseller

Trend Micro Inc. è una multinazionale che si occupa di software per la sicurezza informatica con sedi centrali globali a Tokyo, Giappone e Irving, Texas, Stati Uniti. L'azienda sviluppa software di sicurezza aziendale per server, container e ambienti di cloud computing e anche reti ed endpoint. I suoi prodotti di sicurezza per cloud e virtualizzazione forniscono sicurezza automatizzata.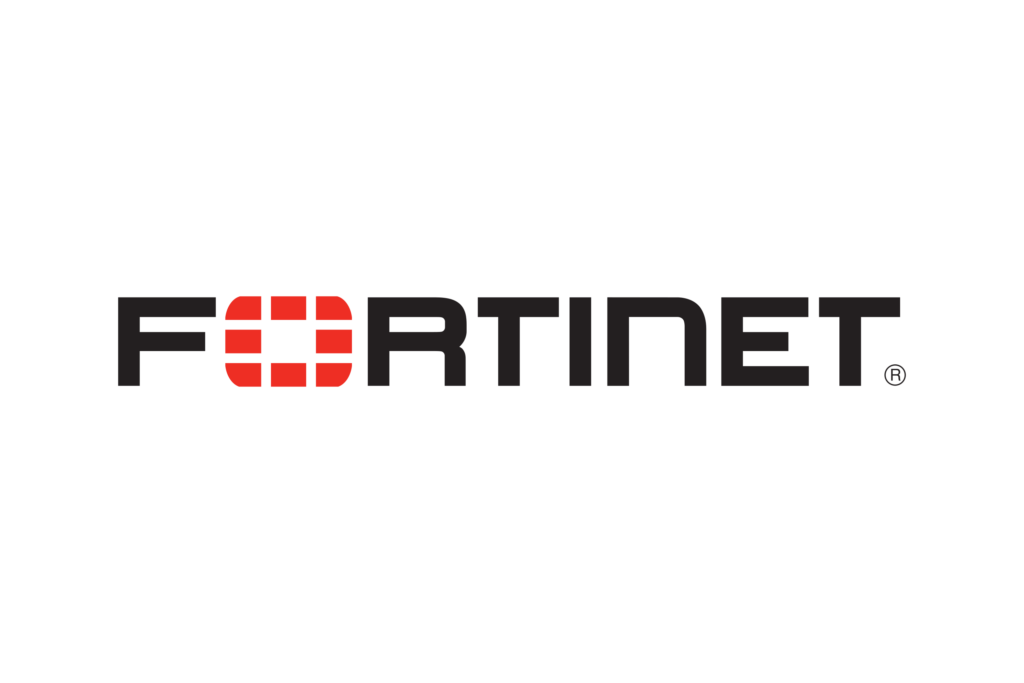 Fortinet è una multinazionale a che si occupa dello sviluppo e della commercializzazione di software, dispositivi e servizi di sicurezza informatica, quali firewall, software antivirus, sistemi di prevenzione delle intrusioni e di sicurezza degli endpoint. Poi nel campo della sicurezza delle reti, si tratta della quarta azienda più importante al mondo. Le soluzioni Fortinet offrono sicurezza, prestazioni e TCO ineguagliabili.

Offre una gamma di soluzioni di sicurezza multi-threat che aiutano le aziende di qualsiasi dimensione a rispondere alle sfide di sicurezza, rendendo possibile così la realizzazione di ambienti di comunicazione sicuri e nel rispetto dell'ambiente. In ultimo ma non meno importante Fortinet è l'unica società ad avere creato dalla base una piattaforma di sicurezza completa per fornire protezione e gestione delle minacce a vari livelli. Questo approccio si traduce in una migliore sicurezza attraverso l'integrazione, una soluzione a prova di futuro facilmente scalabile in base ai requisiti aziendali.
certificazioni:
-Fortinet Bronze Partner

Check Point Software Technologies Ltd. è un'azienda produttrice di dispositivi di rete e software, specializzata in prodotti relativi alla sicurezza quali firewall e VPN, fornitore di software e prodotti hardware e software combinati per la sicurezza informatica, compresa la sicurezza della rete, la sicurezza degli endpoint, la sicurezza del cloud, la sicurezza mobile, la sicurezza dei dati e la gestione delle analisi per la cybersecurity.
certificazioni:
-Check Point Bronze Partner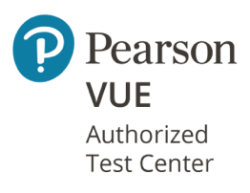 Pearson Vue fornisce esami ad alto potenziale che consentono agli esperti di certificare e autorizzare le persone che salvaguardano e fanno avanzare le loro comunità in tutto il mondo. Sviluppano le principali tecnologie per i test che guidano il progresso attraverso credenziali essenziali praticamente in ogni settore.
certificazioni:
-Security Architect Srl è Test Center autorizzato PEARSON VUE
feautured certification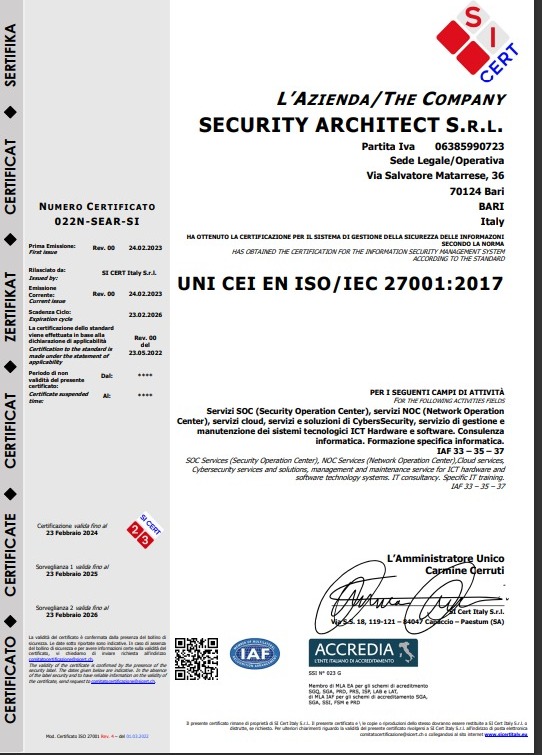 UNI CEI EN ISO/IEC 27001:2017 IAF 33-35-37
Certificazione aziendale per il Sistema di Gestione della Sicurezza delle Informazioni per i seguenti campi di attività: l'erogazione di servizi SOC (Security Operation Center), servizi NOC (Network Operation Center), servizi Cloud, servizi e soluzioni di Cyber Security, servizio di gestione e manutenzione dei sistemi tecnologici ICT Hardware e Software, Consulenza informatica, formazione specialistica informatica.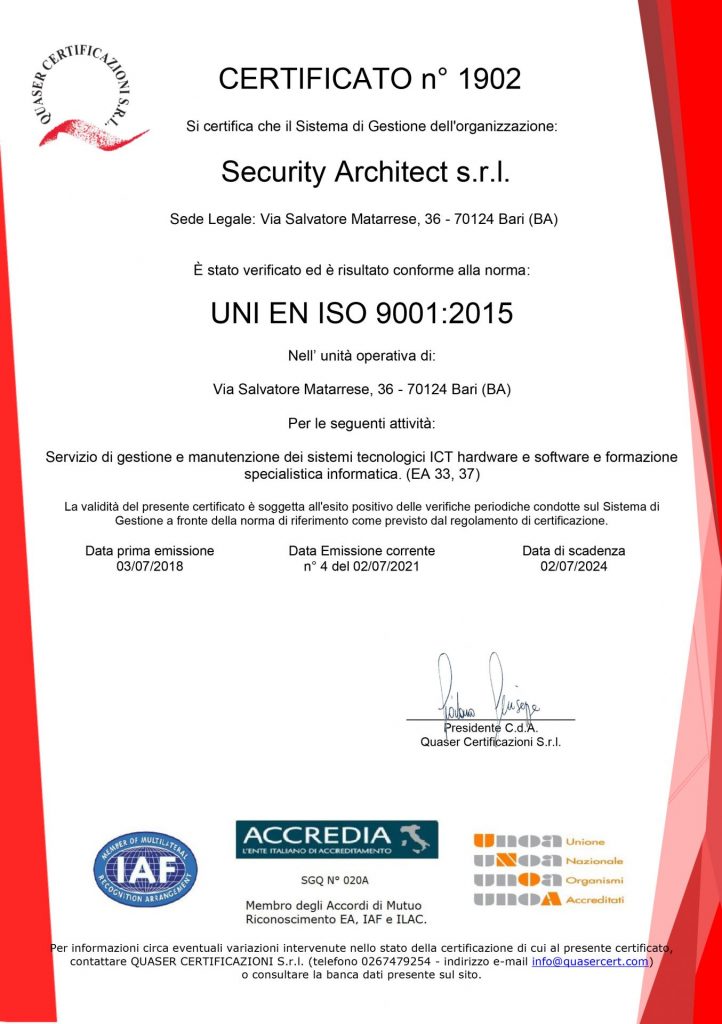 UNI EN ISO 9001:2015EA 33, 37
Certificazione aziendale per i Sistemi di gestione per la qualità per le seguenti attività: Servizio di gestione e manutenzione dei sistemi tecnologici hardware e software e formazione specialistica informatica.
Certificazioni dei nostri esperti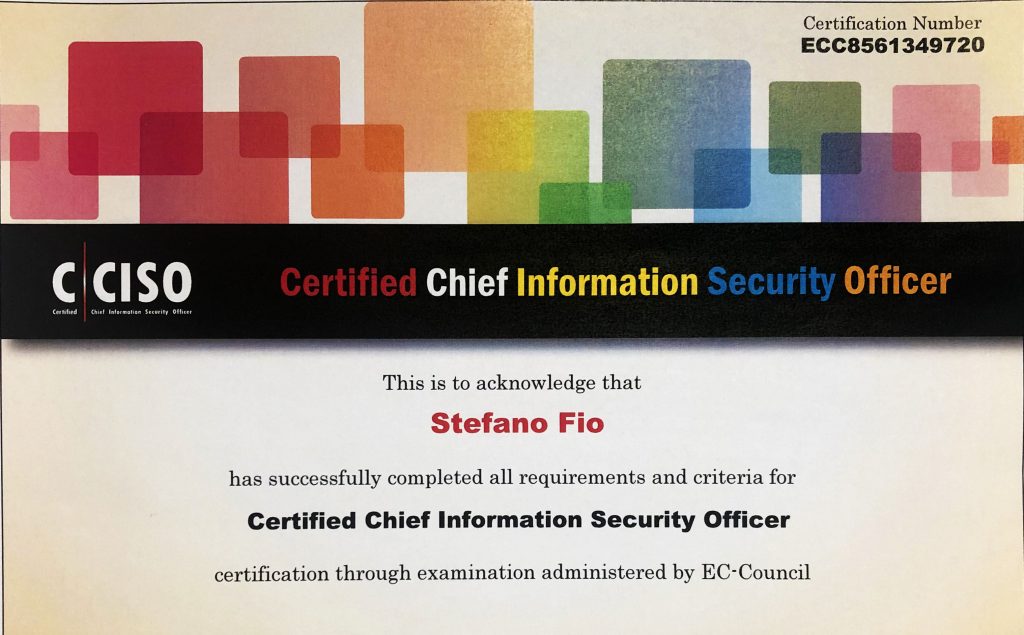 AICQ SICEV – ICT Security Manager secondo la norma UNI 11506
Certified Wireless Network Administrator
CHFI Certified Hacking Forensic Investigator
Cisco CCDA
Cisco CCNA
Cisco CCNP
CISCO CCNP Data Center
Cisco CCNP Enterprise
Cisco CCNP Security
Cisco CCS – Enterprise Core
Cisco CCS – Network Security Firepower
Cisco CCS – Security Core
Cisco CCS – Security Core
Cisco CCS – Security Identity Management Implementation
Cisco CCS Enterprise Advanced Infrastructure Implementation
Cisco Certified Specialist – Network Security Firepower – CCS-NSF
Cisco Certified Specialist – Security Identity Management Implementation – CCS-SIMI
Cisco Express Foundation for Systems Engineers
Cisco Security Specialist – SND
Cisco Unified Computing Technology Design Specialist (DataCenter)
CitrixCertified Administrator
Cloud Networking
CMNA – Certified Meraki Networking Associate
CompTIA CySA+ Cybersecurity Analyst
CompTIA Network+
CompTIA Security+
EC-Council C|CISO – Certified Chief Information Security Officer
EC- Council Computer Hacking Forensic Investigator v4
Fortinet NSE 6 – FortiADC 6.2
Fortinet NSE 6 – FortiWeb 6.4
Fortinet NSE1 Network Security Associate
ISECOM OPST – Certified OSSTMM Professional 3.0 Security Tester
Lead Auditor ISO/IEC 22301 – Continuità Operativa
Lead Auditor ISO/IEC 27001:2022 – Gestione della sicurezza delle informazioni
Lead Auditor ISO/IEC 27002 – Controlli di sicurezza delle informazioni
Lead Auditor ISO/IEC 9001 – Sistemi di gestione per la qualità
MCITP Enterprise Administrator on Windows Server
MCITP Enterprise Messaging Administrator on Exchange
MCSA Security Windows Server 2003
MCSA Windows Server
MCSE Productivity
MCSE Security Windows Server: Messaging
MCSE Security Windows Server: Security
MCT Microsoft Certified Trainer
MCTS Hyper-V Windows Server Virtualization
MCTS Microsoft Exchange Server, Configuration
MCTS: Microsoft Windows Server Active Directory, Configuration
MCTS: Microsoft Windows Server Application Infrastructure, Configuration
MCTS: Microsoft Windows Server Network Infrastructure, Configuration
Microsoft AZURE Administrator Associate
Microsoft Certified Azure Administrator Associate
Microsoft Certified Professional
Microsoft MCITP – Enterprise Administrator on Windows Server
Microsoft MCITP – Enterprise Administrator on Windows Server
Microsoft MCSA – Windows Server
Microsoft MCTS – Windows 7, Configuring
Microsoft MCTS – Windows Server Active Directory, Configuration
Microsoft MCTS – Windows Server Applications Infrastructure, Configuration
Microsoft MCTS – Windows Server Network Infrastructure, Configuration
Microsoft Specialist Windows, Configuring
Mitre ATT&CK Cyber Threat Intelligence
Mitre ATT&CK SOC Assessment
Mitre ATT&CK Threat Hunting Detection Engineering
Oracle Database 11g Administrator Certified Associated
ORACLE Database Administration I1Z0-082
PRINCE2 Practitioner Certificate in Project Management
PRINCE2 Project Management
Red Hat Certified System Administrator (RHCSA)
TIGERSCHEME Associate Security Tester
VCP: VMware Certified Professional – Cloud
VCP5: VMware Certified Professional 5 – Data Center Virtualization
VCP6: VMware Certified Professional 6 – Cloud Management and Automation
VMware Certified Professional su vSphere 5
VMware VCP Data Center Virtualization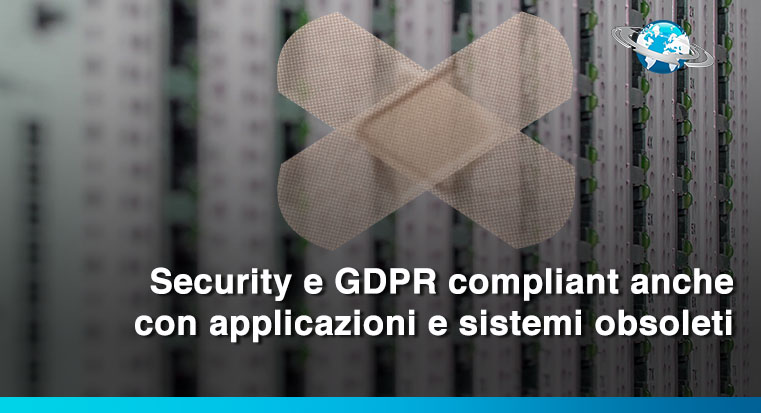 Spesso accade che le aziende continuino ad utilizzare software obsoleti per impossibilità alla sostituzione completa esponendosi a rischi per la sicurezza e inosservanza...
Leggi tutto